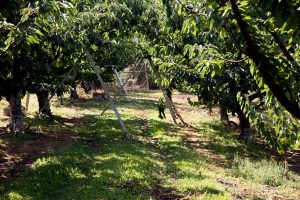 U-Pick – Bring the family together to share and experience nature.  Training & equipment are provided.  Picking is normally available from 7-11:30 am daily.  Enjoy a picnic lunch  in the glorious outdoors if you'd like.  A cooler to haul your cherries back would be useful; otherwise, we do have cherry boxes for sale.
Make a Reservation by Calling Us at 250-486-5113.
We-Pick  – Let us do the picking for you.  Best if you give us a little notice.  Call and place your order.  Call Farmer Joe at (250) 486-5113
In either case, we can store your cherries in our Walk-in Cooler – ready for pick-up when you're ready to head home.