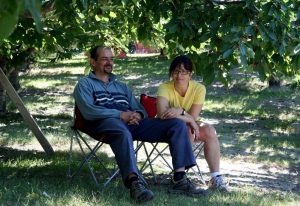 The orchard has been producing cherries for over 50 years and our farming practices and philosophies are consistent with organic farming and integrated pest management principles.
We take pride in what we grow and hope you enjoy the quality and care that goes into everything you buy.
We believe in:
Reducing the use of chemicals as much as possible.
Protecting the environment, minimizing soil degradation & erosion, decreasing pollution, optimizing biological productivity and promoting a sound state of health.
Recycling or Reusing materials and resources to the greatest extent possible.
Carefully harvesting and preparing our produce to maintain quality freshness at all stages of production.
Having the peace of mind of knowing where your food comes from is important. The biggest benefit to buying produce locally, is having an actual person give you the history of that food, being able to answer questions about how it was grown, when it is ready and perhaps why it tastes so fresh and good!
Become a locavore by seeking locally grown, seasonally available food that is produced and prepared without unnecessary chemicals or preservatives.